Valentine's Day has been around for centuries. It's a holiday typically celebrated by spending one-on-one time with your significant other. Galentine's Day is a whole other story. This holiday, made popular by fictional character Leslie Knope on Parks and Rec, is all about women celebrating with a group. Hosted on February 13, it is a day to gather with your girlfriends and celebrate the bonds of your friendship.
While you can celebrate the day with a small group of friends, you can also host an event for your community-at-large. Below are just some of the ways you can observe this wonderful day.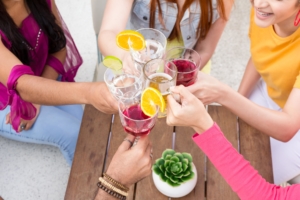 Happy Hour
What better way to celebrate than inviting your friends, and friends of friends, to join you at a local bar or hang out. Not only is this a great way to connect with your friends, it is also a wonderful way to meet new friends and mentors, expanding your social circle! If you don't want to go out, host one at your house, complete with a rosé flight.
Mixer
Speaking of expanding your circle, a mixer is another wonderful way to spend Galentine's Day. Nothing is more in the spirit of Leslie Knope than women supporting women. You can work with a local networking group or your colleagues to host an event that will allow women to connect with potential business partners, mentors, and like-minded individuals.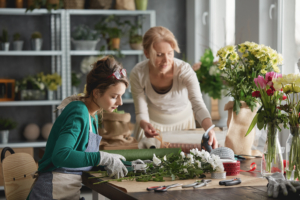 Craft Night
Get creative! Whether it's pottery, floral arranging, macramé, or bath bombs, being creative is a wonderful form of self-care. There are likely many places in your community that host these types of events, or put one on yourself. Plan a craft that will serve as a reminder to all participants that they have women supporting them.
Sip-and-Shop
If you have a lot of crafty women in your life, why not create an event that not only connects them, but also allows them to show off their work? Supporting women-owned businesses is an amazing way to show your friends and community that you cherish their contributions to your life and the world. This year, we are happy to be a part of one such event which supports a local, women-centric nonprofit.
Community Service
In the same vein as women supporting women, get your boots on the ground and do some community service. Whether you're sorting cans at the local food pantry or mentoring young girls, your friendships will only be deepened by bettering your community together.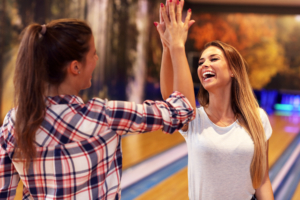 Friendly Competition
Make your night a little more interesting with some friendly competition. Galentine's Day is the perfect night to host rom-com trivia or start your new ladies bowling league. No matter what activity you choose, get your adrenaline pumping! Make sure you choose good prizes, like spa certificates, tickets to a sporting event/concert, or a homemade trophy.
Workshop
Learn something together. Seeing as knowledge is power, nothing says empowerment like learning something new! There is always room to expand your mind, whether that is a visit from a local author or activist, or even a mechanic to teach you the ins and outs of car maintenance. You could also sign up for a group cooking or self-defense class.
No matter how you choose to enjoy Galentine's Day, the important thing is that you spend it surrounded by women who mean the most to you. Don't miss the opportunity to let your gal pals know the impact they've made in your life and that you've got their back!
Contact our event specialists today to learn how Hicks can help you host the perfect Galentine's Day or other 2020 event!
https://hicksconventions.com/wp-content/uploads/shutterstock_1360150292-scaled.jpg
1703
2560
Beth Wilson
https://hicksconventions.com/wp-content/uploads/Event-Rental_Vector-copy-300x300.jpg
Beth Wilson
2020-02-05 16:25:14
2020-02-05 16:27:36
Seven Galentine's Day Celebration Ideas