Valentine's Day has been celebrated for decades and is one of the most popular holidays around the world. Many associate it with candy, gifts and flowers, but this day can also be enjoyed with friends! So, why not celebrate this holiday of love with a festive party? Take a look at our list of tips and tricks that will help you host a Valentine's Day party that would even make Cupid jealous.
Decide on a Valentine's Day party theme your guests will love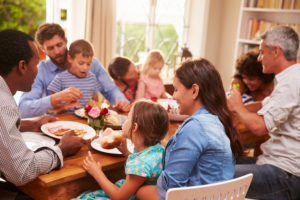 Deciding on your theme is the first step when planning any party. While you might be tempted to choose a theme that centers around hearts and roses, take this chance to think outside of the box. Plan on a theme that all of your guests will enjoy. Consider basing your Valentine's Day décor on a movie that depicts a great example of love. Or, you can choose a favorite heart-throbbing story, like Romeo and Juliet, and ask your guests to dress up as the characters. Who says a costume contest has to wait until Halloween? If you'd like to add a twist to your romantic rendezvous, consider hosting a murder mystery party, where your friends and family can uncover the truth about a tragic death or a lover's betrayal. Whichever direction you choose, have fun and encourage your guests to play the part.
Purchase Valentine's Day décor you will love
Choosing Valentine's Day décor can be a fun way to get creative with your color palette. Depending on the theme you choose, splashes of pink and red will
 add a nice touch to fit the mood. Next, make sure you have enough tables, chairs and linens to accommodate all of your guests and activities. Another easy way to add a little something extra to your theme is to rent hand-picked plates, cups and cutlery. You can even order customized glasses for each guest as a "thank you" gift for them to take home. Make sure to add fresh flowers to each table, as this will help ensure that the event space smells fresh and sweet!
Create a Valentine's Day menu that everyone will love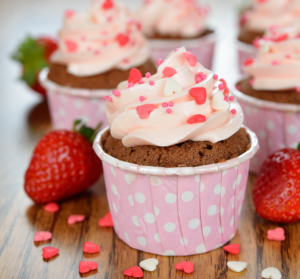 Creating a menu that all of your guests will enjoy can be a challenging task. If you are preparing the food yourself, be sure to have an abundance of appetizers and hors-d'oeuvres. These are often a less expensive option and are a quick go-to for your guests as they socialize. If you are providing a main course, ask your guests to help! Create make-your-own pizza and cupcake stations, complete with a bar filled with toppings and an assortment of desert decorations. You can also have a baking contest that encourages everyone to bring something to share. When your guests are involved, it makes for a fun activity for them and less stress for you.
Plan and prepare fun Valentine's Day games and activities that everyone will love
Games and activities are always the highlight of a party for any age group. Fun family games can consist of pin the arrow on Cupid,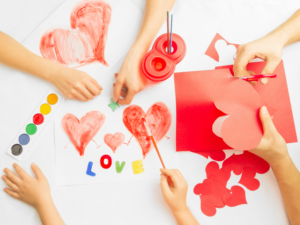 Valentine's Day Family Feud or a heart-shaped bean bag toss. You can also add another element of competition and divide guests into teams of red and pink, and whoever earns the most points at the end of the evening wins a special prize. Another great activity for the whole family is making Valentine's Day cards for guests to take home. Have a camera ready and take photos of your guests that they can print out and add to their craft. They will enjoy getting to take home a sweet memory from your party!
Let Hicks help you with your Valentine's Day event rentals and connect you with an event specialist! For more information, contact Event Rentals by Hicks, or visit www.hicksconventions.com.
https://hicksconventions.com/wp-content/uploads/shutterstock_1236854005.jpg
2625
3937
Beth Wilson
https://hicksconventions.com/wp-content/uploads/Event-Rental_Vector-copy-300x300.jpg
Beth Wilson
2019-02-08 08:00:03
2019-02-08 08:51:16
Valentine's Day Party Tips and Tricks