Hosting an event can be difficult in itself. Organizing an event for people who are busy moving around and socializing adds extra considerations. Networking events are excellent places for people to mingle and have great conversations. People are less likely to stay, however, if the event is uncomfortable and the atmosphere underwhelming. Here are a few tips to ensure your networking event goes off without a hitch. 
Consider the Flow of the Space
When you host a networking event, choosing the venue is one of the most important steps. You want to select a location that is unique and interesting while also having the capacity to comfortably hold a large group of people. The venue should do more than just hold them, too. It should be laid out in a way that facilitates conversation. A big empty room is going to end the same as a middle school dance, with friend groups hugging the wall. If you truly want people to network and converse, create zones where they can do so. Set up a seating area with couches and chairs so multiple groups can mingle together. High-top tables (without chairs) are also a great way to gather people around – especially if they need somewhere to put their plates.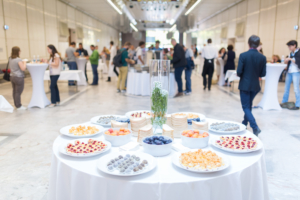 Don't Skimp Out on Refreshments
The last thing you want at any event is hungry guests. You don't want some of the networking to stop because people leave to refuel. Moods can fluctuate with a hungry group of guests. It helps to have a nice assortment of foods that guests can snack on while they chat. You want to make sure to include a mix of options that take allergies and dietary restrictions into consideration. They don't have to be expensive either. Food is also a great conversation starter. When topics are dwindling, guests are able to start discussing the snack in front of them.
Have a Secure, Fast Wi-Fi Network
It's hard to network when you can't make a connection. Professionals rely on a strong signal when sharing information with each other at networking events. You want to make sure that the wi-fi connection is quick and responsive. It's also important to set up your connection to the parameters of the room and make sure it is on a secure network. The best networking events have a sign that gives guests the password for the temporary connection. Make sure that it's easy to read and an in an obvious spot, so attendees don't have to waste valuable networking time tracking down the password.
Bring in Guest Speakers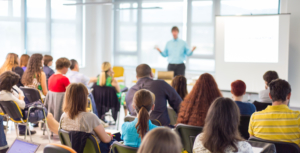 Charismatic keynote speakers can really bring your event to life. Your guests can focus their attention on a couple of people who can discuss how networking has benefitted their careers and enjoy the opportunity to pick their brains. Speakers should be intriguing enough to capture an audience's attention and have plenty of energy to hold a conversation after the presentation. Make sure that speakers understand they have a limited amount of time to present because you want your guests to have enough time to network and socialize.
Let us help you host a networking event people are sure to remember! Our event coordinators can help you design a space perfect for mingling and connecting. Contact us today to learn more!
https://hicksconventions.com/wp-content/uploads/shutterstock_1408351031.jpg
2812
5000
Beth Wilson
https://hicksconventions.com/wp-content/uploads/Event-Rental_Vector-copy-300x300.jpg
Beth Wilson
2019-09-06 13:07:11
2019-09-06 16:29:06
How to Host a Networking Event