A wedding coordinator is a professional who organizes and plans weddings for a living. They are also known as wedding planners. Hiring a wedding coordinator is one of the best things that you can do in order to ensure that your big day goes smoothly.
#1 No Details Are Overlooked
There is so much involved in planning a wedding. You have to book a venue, order a dress and tuxedo, hire a caterer and florist, book a venue and make sure that the place is decorated. It is easy to overlook the small details when you have so much to do before your big day. However, your wedding planner will ensure that nothing is overlooked.
#2 You Can Save Money
Weddings are not cheap. That is why many people believe that they do not need to hire a wedding planner. However, your wedding planner can actually help trim the expense of your wedding. They can help you get discounts on the florist, caterer, venue and DJ. You can easily cut the cost of your wedding by 10 to 20 percent by hiring a wedding coordinator.
#3 Save You Time
Not only can you save money by hiring a wedding coordinator, but they can also help you save time. Your wedding planner can take care of most of the tasks for you. You will be able to spend less time stressing about your wedding and more time preparing for your marriage.
#4 Reduce Your Stress
Many future brides and grooms spend a lot of time worrying about all of the things that can go wrong during the wedding. Your wedding coordinator's goal is to make sure that your big day is a great one for everyone involved in it. If a problem does arise, then your wedding planner will be able to make sure that it is solved promptly.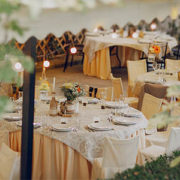 Furthermore, wedding coordinators are well-organized. They will be able to instantly give you the information you need about your wedding. Being organized helps keep the stress of planning a wedding down. Wedding planners have planned numerous weddings. That is why they know exactly what needs to be done in order to ensure that your big day goes as planned.
The experience, cost and reviews from previous clients are some of the things that you should look at before you hire a wedding planner. You can find out more about our wedding coordinators here.
https://hicksconventions.com/wp-content/uploads/hicks_slider_wedding_coordinator_2.jpg
816
1980
Ricky Hicks
https://hicksconventions.com/wp-content/uploads/Event-Rental_Vector-copy-300x300.jpg
Ricky Hicks
2016-09-28 06:10:50
2016-10-03 12:56:46
Benefits Of Hiring A Wedding Coordinator