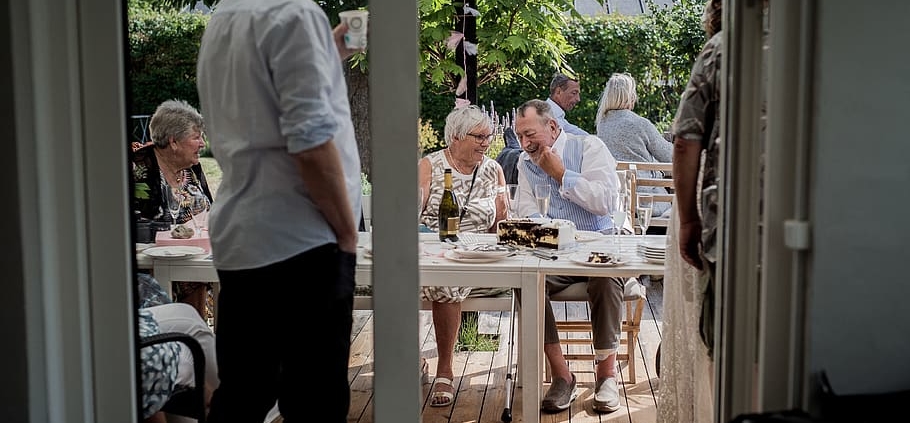 The rising trend of outdoor living makes it cozier than ever to have Thanksgiving dinner on the patio or deck. Grills, smokers, turkey deep fryers, fire pits, LED lights, and outdoor heaters have extended the outdoor living season. Wi-Fi enables us to take our entertainment beyond the walls of the house, and modern TVs make watching football games on the deck as easy as in the den. But doing Thanksgiving al fresco is more complicated than summertime holidays because the menu is more involved. The weather is also unpredictable. If you're considering celebrating Thanksgiving outside, you should keep some important things in mind in order to throw a memorable event.
1. Have a backup plan
Fall is a transitional season between the extremes of summer and winter, and the weather can change in an instant. Have a Plan "B" to move your dinner inside in case a gusty front moves in. That means being ready to move from the patio to the dining room at a moment's notice. Along those lines, some guests may not be comfortable eating outdoors but are too polite to say so. Have an eating area ready inside so everybody can feel comfortable. Keep a close eye on the weather forecasts on the days leading up to your party.
Keep a few throws or afghans around for cold-natured guests and light a fire in the fire pit.
2. Spruce up the yard
Mow and trim, if necessary. Raking leaves is a must. Fall blooming lants in beds or pots add a nice touch to your autumn décor, but get rid of annuals that have given up the ghost. If you have outdoor pets, check before guests arrive to see that no "calling cards" have been left in the yard. It might be wise to keep pets indoors during dinner, if possible. Pooches are notorious table beggars, and cats have no compunction about hopping up next to the green bean casserole.
3. Make sure you can accommodate everybody
The patio table may not be big enough for the party, so plan for extra tables and seating. Rental agencies can provide that — and some offer turnkey accommodations for outdoor events. Consider investing in one or two sturdy, long folding tables. They are relatively inexpensive and will come in handy later for other outdoor occasions. They can also double as craft tables and a place to wrap Christmas gifts. Plus they are ideal for next spring's garage sale. A really wise purchase is tablecloth clips to protect against sudden gusts. You can find them online for less than $10 per set.
4. Plan for an early meal
By Thanksgiving, Daylight Saving Time has gone and it's dark by 5 p.m. Memphis temperatures in late November usually peak in the low 60s during daylight and fall into the 40s at night. Consider serving lunch rather than dinner. A late afternoon meal is an option, as long as you serve no later than 4 p.m. – unless you have excellent lighting and heat. Some guests may appreciate an early gathering if they have other plans for the evening.
5. Have a strategy for keeping food warm
A brisk afternoon can quickly put a chill on food. Chafing dishes and portable food warmers can help if you plan on serving outdoors. You can also serve buffet style, having guests fill their plates indoors and then going outside to eat. That'll also ensure toasty warm seconds. This is a good strategy for a potluck meal where guests bring dishes.
Celebrating Thanksgiving outdoors may seem challenging. But remember that the Pilgrims pulled it off — and they were in New England.
6. Have a strategy to keep the people warm
Another way to ensure your food and your guest don't get too chilly is to consider using a climate-controlled tent. Even in the South, Thanksgiving can be a bit chilly. Offering a climate-controlled area or even heaters will help keep your guests warm, toasty, and thankful during your outdoor Thanksgiving. While you may have enough seating on hand, you can ease yoru burden by renting tables and chairs as well!
This post was primarily authored by Shelly Ruddle, a fresh air enthusiast whose passion is decorating outdoor living spaces. Her patio includes an outdoor kitchen, a pergola, and enough seating to entertain the neighborhood. She lights up her garden at night to show off her native plants and flowerbeds.
https://hicksconventions.com/wp-content/uploads/men-party-people-women.jpg
606
910
Beth Wilson
https://hicksconventions.com/wp-content/uploads/Event-Rental_Vector-copy-300x300.jpg
Beth Wilson
2019-11-23 11:19:25
2019-12-03 11:29:14
How to Host the Ultimate Thanksgiving Dinner Party Outdoors