Football season is right around the corner! The NFL pre-season is in full swing and college football kicks off Labor Day weekend – just two weeks away! Sports fans across the country are getting their jerseys and other gear ready to attend games and cheer for their favorite teams. As you prepare to root for yours, ensuring that you have the necessary tailgating essentials.
Tailgating is a great bonding experience for friends, family and other fans you meet along the way! From grilling delicious food to playing great music, there is a lot of responsibility when hosting a tailgating party, whether at home or away. Below, we list some tailgating essentials you'll need to keep your fellow fans happy.
The Set Up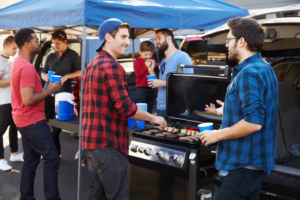 Every school has a different set up for their tailgating fans. UofM has Tiger Lane and Ole Miss has the Grove. What's allowed in your tailgating area depends on where you are and what you need. One thing you'll definitely need is a tent and tables. Whether you're expecting just a few friends or hosting the whole neighborhood, a good tent will protect you from the elements all season long.  Don't forget to consider those with climate control, fans and heaters. Your friends will thank you for keeping them warm in November!
Once you have your tent, you'll need to think about what you're going to put under it. Any good tailgate is full of food and drinks, which needs somewhere to rest. Tables are tailgating essentials to help you stay clean and organized. You'll also want a few chairs and seating areas so that you don't spend the whole time standing up, especially if you'll be doing so during the game.
The Food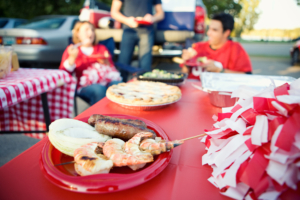 Tailgating is all about the food, so a good menu is crucial. Most tailgates center around the grill. Burgers, hotdogs and other items are always popular choices. You also have fans who like to get a little fancier with wings, casseroles and other delicious dishes. Whatever you serve, make sure you can keep it warm with food warmers.
Along with great food, you also need delicious drinks! Coolers are a must for keeping beverages cold. Depending how advanced your set up is, you may even want to bring a mini-fridge or kegerator. That will definitely keep your drinks from getting too hot. Whatever you do, don't forget the cups, plates and silverware!
The Gear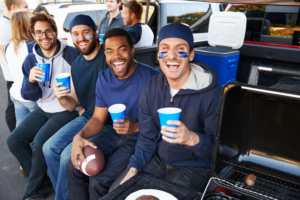 Speaking of cups and plates, be sure to use ones that show your school pride! Your gear means everything and shows your spirit. The more you deck out your tent, the more other fans will flock to your area and help you cheer your team to victory. Flags, koozies and aprons covered in your team's logo are all tailgating essentials. They're even more important when your team is on the road! People should spot your allegiance from a mile away. You can get team-branded swag at your school's bookstore, party stores or even Walmart and Target, if your team is local. You can also get more specialized items on sites like Amazon and Etsy. Don't forget to blast your fight song through the speakers!
Let us help you host the best tailgate with essentials like tents, food warmers, tables and more! Contact us today to learn how we can get you game day ready. Be sure to check out our tailgating packages!
https://hicksconventions.com/wp-content/uploads/shutterstock_354454757.jpg
3385
5078
Beth Wilson
https://hicksconventions.com/wp-content/uploads/Event-Rental_Vector-copy-300x300.jpg
Beth Wilson
2019-08-16 13:49:33
2019-08-28 15:00:28
College Football Tailgating Essentials