Tents are perfect for all of your outdoor events. They offer protection from the weather and give a sense of privacy for you and your guests. You're able to keep them up for hours for your event and they are pretty easy to spot when hosting a major event. With a little imagination, you can transform your tent into something special. Adding some temporary flooring on the inside of your tent and dressing the ceiling in stunning lighting can turn your tent into a wonderland. To make sure you have the basics down, we answered some frequently asked about tent rental questions below.
What are the best tent sizes for your event?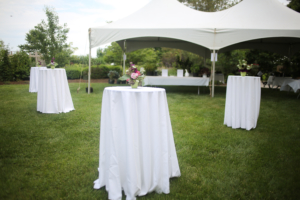 Tent sizes will vary depending on the occasion. Having enough space for you and your guests keeps everyone comfortable during the event. Of course, if you have a large number of guests, your tent rental should be spacious enough to have enough room for flooring and mobility. However, you also want the area to be enclosed enough so you won't have to make a long journey across the tent. With a small party, you can scale back the tent size to create a more intimate atmosphere, but you still want to have enough room for your guests to feel comfortable.
Will my tent rental be able to sustain the seasonal temperatures?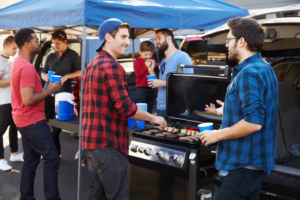 With proper preparation, you can control the temperature inside your tent. Some tents are equipped with functioning A/C units and heaters that can help keep your guests nice and comfortable—whether you're hosting an event in the heat of July or creating a toasty retreat from a real winter wonderland. Also, some tents are insulted which can help keep the air inside of your tent. While picking out your tent, be sure to have extra accessories to help fight the outside temperatures.
How will the tent be secured?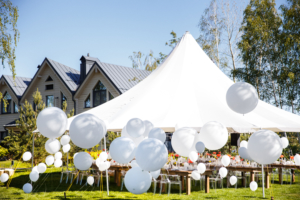 Proper tent security is paramount for your event. A safe environment under the tent will put your mind at ease and will help avoid all types of problems. Using heavy canopy weights is a great way to keep your tent held down properly. Or you could apply sturdy stakes deep into the ground to make sure that your tent doesn't budge. High winds can be a tent's natural enemy, so be prepared ahead of time.
Want to learn more about securing a tent rental for your event? Contact us today!
https://hicksconventions.com/wp-content/uploads/shutterstock_197889809-e1563545900450.jpg
1838
4064
Beth Wilson
https://hicksconventions.com/wp-content/uploads/Event-Rental_Vector-copy-300x300.jpg
Beth Wilson
2019-07-19 09:29:29
2019-08-16 13:55:36
Tent Rental FAQs