Many couples choose to have weddings in backyards and on family property for both practical and sentimental reasons. Just because you aren't getting married at a fancy venue doesn't mean you can't or shouldn't care about the aesthetics. You can transform your back yard into the wedding venue of your dreams with the help of great decor, romantic lighting, and personal touches. 
Be Authentic
One of the great things about a backyard wedding is that there is no set decor. Many ballrooms and venues already have carpet, lighting and other details that cannot be changed. When designing your backyard wedding, you are able to buy and rent decor that matches your vision and personal style.
Be Prepared for Weather
Weather is usually the number one concern when planning an outdoor event. Setting up a tent can help you regulate the temperature. Either being too cold or too hot can cause discomfort for your guests. Under the tent, you can install air conditioning units or heaters that are safe and efficient. Tents can also be used to keep your guests sheltered from rain. With enough coverage, you are sure to happy and comfortable guests.
Use Your Surroundings
You can decorate your outdoor area with gorgeous plants, lights and posts. Delight your guests with colorful flowers planted in full view of the reception area. Depending on your wedding colors, you can find flowers that match your theme exactly. You can also use the posts of the tent and wrap greenery around them to really show off the contrast of the green against the white of the tent. Another design you can use is hanging string lights from surrounding trees. The pretty lights can create a softer glow that sets the mood for the whole wedding.
Make the Best Use of Your Furniture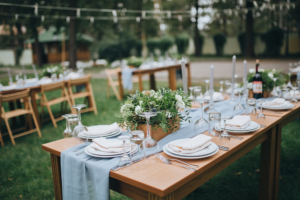 It's hard to relax when you have uncomfortable furniture to rest on and a cramped venue. Create separate areas for your guests to gather after the ceremony. Small tables for conversation, while you serve small plates of snacks, work well. However, if you're looking for something more grandiose, have a long table that will seat all of your guests and your feast. Coming together for an event this huge may require everyone to be seated together so choose your seating at your own discretion. Just make sure everyone is comfortable.
Let Hicks help you with your wedding! For more information, contact Event Rentals by Hicks, or visit www.hicksconventions.com.
https://hicksconventions.com/wp-content/uploads/shutterstock_1117864460-1.jpg
2828
4242
Beth Wilson
https://hicksconventions.com/wp-content/uploads/Event-Rental_Vector-copy-300x300.jpg
Beth Wilson
2019-08-02 17:21:40
2019-08-05 15:27:37
How to Decorate a Backyard Wedding