Summer is the perfect time to host parties outdoors. However, with a scorching sun, a day outside can get exhausting pretty quickly – especially without an outdoor party tent. To help beat the heat and keep your guests comfortable, follow these four tips!
Proper Planning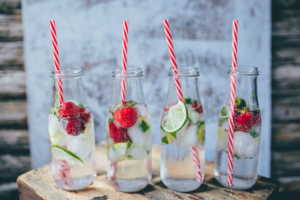 This may seem like a no brainer, but how you plan your event will play a big role in whether or not you're able to keep guests cool. There are several factors that can go into this, such as weather forecast, time of day and event location. Morning and evenings are the coolest times of the day. That makes them optimal times to host an outdoor event. Location can also play a big role in your guests staying cool. If you aren't using an outdoor party tent, you'll want to pick a location with a covered pavilion or lots of shady trees. Waterfront locations often offer a cool breeze, which your guests will thank you for later. 
Great Refreshments
One of the easiest ways to help your guests stay cool is to keep them hydrated. Proper hydration prevents health complications and keeps everyone comfortable during your party or event. It's easy to stay happy in the heat when you have a nice, refreshing beverage in your hand. You can also be festive with cups or accessories that match the theme of your party. Lemonade, flavored waters other non-caffeinated drinks are great options. If your party is cocktail-friendly, make sure you have plenty of water to help your guests stay hydrated.
Water and Air Features
Water and air may be the secrets to keeping your guests cool. Inflatable pools aren't just for kids anymore; you can buy them for adults as well. Of course, a real pool is a much better solution, so plan your parties at venues that have pools, fountains or other bodies of water guests can enjoy. If that isn't possible, provide a portable fan. Buy ones with an attached spray bottle or that plug into a smartphone for power (these also make great party favors). You can also purchase or rent large fans and misters to set up at your event.
Outdoor Party Tent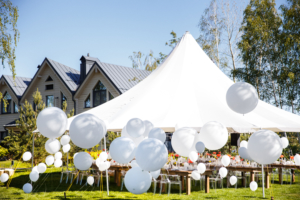 The best way to keep your guests cool is an outdoor party tent. There is a misconception that these tents should only be used for weddings, but they are perfect for any event your hosting outside. Whether a baby shower, birthday party, graduation or corporate picnic, an outdoor party tent is just what you need to keep cool since any of our tents come equipped with climate control. Open air tents make use of fans and misters, while more enclosed tents feature heating and cooling capabilities so you can host an outdoor party all year round. 
Let Hicks help you set up your next outdoor event! For more information, contact us today. 
https://hicksconventions.com/wp-content/uploads/shutterstock_354237392.jpg
1901
2851
Beth Wilson
https://hicksconventions.com/wp-content/uploads/Event-Rental_Vector-copy-300x300.jpg
Beth Wilson
2019-06-07 16:50:49
2019-06-12 11:28:14
Four Ways to Keep Guests Cool at Your Outdoor Event