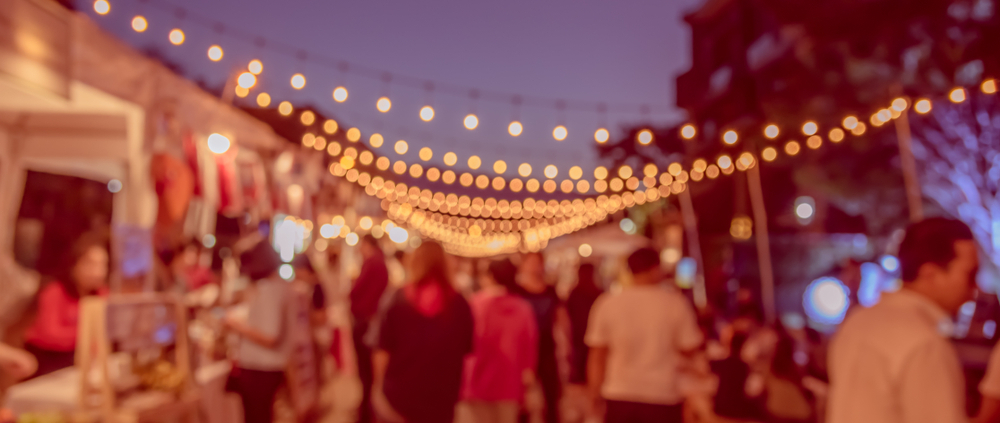 Fall weather is here, and that means fall festivals are right around the corner! The smell of cinnamon apple cider floods the streets and the sound of music and merriment fill the air while friends and family discover hidden treasures from booth to booth.
Fall festivals are a perfect occasion for craftsman and small business owners to exhibit their work and be a part of a community gathering that celebrates the changing seasons. Whether you are an artist looking to display your creations or a culinary master seeking to share your treats with your neighbors, your booth set-up can have a tremendous impact on your customer engagement. If you're a vendor at a fall festival this year, try incorporating the following tips to help create an experience to remember.
A fitting theme
Before setting up a single element of your display, spend some time thinking about your theme. Your booth should reflect your brand and your product, while also incorporating your setting. For a fall festival, throw in some warm leaves, candles or pumpkins to cater your brand to the crisp, autumn setting. A strong theme can help guests remember your brand or product, and encourage them to tell their friends about your unique booth.
If what you're selling already has a strong theme, try incorporating an autumn twist to stand out from the crowd. Switching up your color palette to reflect the warm shades of fall can catch a visitor's eye and draw them to your booth to learn more.
Fun displays
Another way to ensure that your booth is memorable and customers come back is to offer your visitors an experience when they approach your table. Try incorporating a simple raffle or game into your display, or invest in a creative structure that draws the eye. Have your guests guess how many candy corn pieces are in a jar for a chance to win a free product, or set up a wheel of prizes for those who sign up for your mailing list.
Festival goers are seeking an experience to remember and be a part of. You can encourage visitor participation with a festival-themed photo booth for your guests to capture a memory from the day, or build a chalkboard backdrop that they can decorate. Be creative and find ways to engage your customers so that your booth is the first one they look for next year.
Don't forget the details
Setting up your festival space can be an opportunity to show off your brand's personality. Pay close attention to the details surrounding your table and stand out from the crowd. The smallest touches can make the biggest difference in how your brand is perceived. Add a few string lights or a colorful tablecloth to liven up your setting, or set up a structure that stands above the crowd. You can also find unique ways to display your menu or price list, letting your customers know that you care about every part of their experience.
Taking care while selecting details for your booth can be both fun and fruitful. Fall festivals are the perfect place to share your work with your community and grow your business for years to come.
If you are planning a space for a fall festival this year, contact Event Rentals by Hicks for all of your event rental needs.
https://hicksconventions.com/wp-content/uploads/shutterstock_1045635289.jpg
604
1000
Beth Wilson
https://hicksconventions.com/wp-content/uploads/Event-Rental_Vector-copy-300x300.jpg
Beth Wilson
2018-09-13 10:38:04
2018-09-13 10:40:26
Fall Festival Guide for 2018