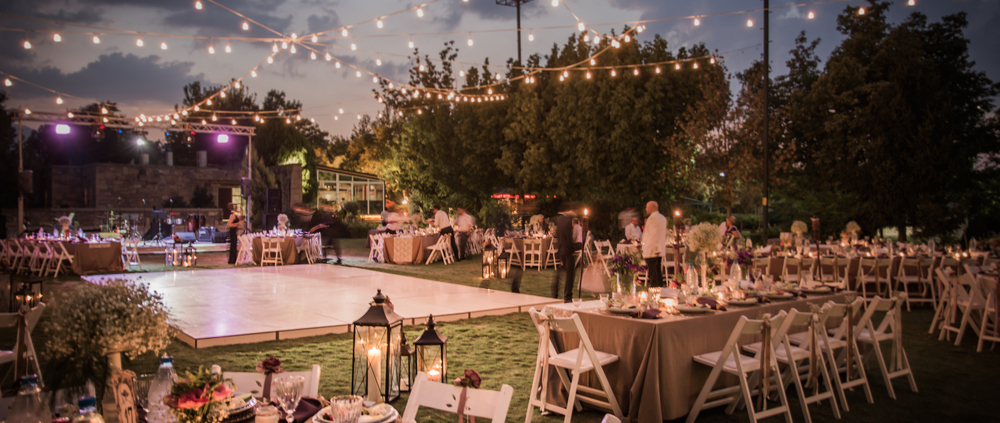 As the sun begins to peek out from behind the clouds and rising temperatures grace us with their presence, the time has finally come to start planning outdoor events. With these soirées come larger event spaces to fill, weather considerations to consider and guest accommodations to prepare for. The good news – outdoor event rental options are endless. Take a look at our outdoor rental checklist and feel inspired for the spring and summer event season!
Tents or Canopy 
When you decide on an outdoor location for your event, weather considerations need to be taken into account. A great rental option that can help combat any unpredictable weather conditions are tents and canopies. There are a variety of shapes and sizes you can choose from that will be sure to compliment your theme. You can also rent specific flooring or staging to accompany the tent you choose so your guests can dance the night away. While tents and canopies are always helpful to have on hand in case of rain, wind or unforeseen temperatures, they can also serve as a beautiful addition to outdoor events year-round.
Lighting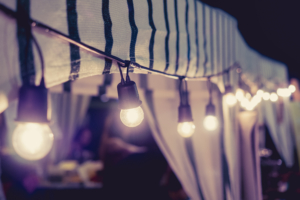 One of the best parts about planning an outdoor event is the vast amount of space to work with. With large areas, consider atmospheric lighting as a space filler, and to set the tone of your event. If you are hosting an upscale, formal gathering, a hanging chandelier could be a great option to accompany your décor. If your outdoor event has a more rustic vibe, string lights or lanterns would fit the mood perfectly. Be sure to discuss the lighting with your photographer beforehand so they can prepare with the best equipment to capture every moment. With a little preparation, you will have wonderful photos to commemorate the event.
Arbors or gazebos 
Renting an arbor or gazebo can help set a focal point and direct guests to where the main event will take place. If you are planning a wedding or nuptial renewal, these make for a great backdrop in photos. Arbors and gazebos are also great pieces to rent because they accommodate flowers and other rental décor. To find the perfect fit, talk with your event coordinator when planning the details and ask what arbor or gazebo texture, size and color options are available. You and your guests will be amazed at how this decorative structure puts the finishing touch on an outdoor event.
Tables and Chairs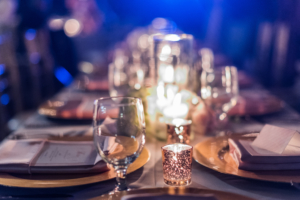 The final event rentals to keep in mind for outdoor events are the essentials: tables and chairs. It is important to choose options suitable for an outdoor space. Make sure to have tables with stands that will not sink into the ground and remain sturdy in case of wind. When choosing chairs, consider styles that will remain level on a variety of outdoor flooring. Your choices can ensure that your guests are comfortable for the duration of your event.
Let Hicks help you plan your spring and summer outdoor events! For more information, contact Event Rentals by Hicks, or visit www.hicksconventions.com.
https://hicksconventions.com/wp-content/uploads/shutterstock_614687651.jpg
667
1000
Beth Wilson
https://hicksconventions.com/wp-content/uploads/Event-Rental_Vector-copy-300x300.jpg
Beth Wilson
2019-01-11 11:36:56
2019-01-11 11:37:14
Outdoor Event Rental Options