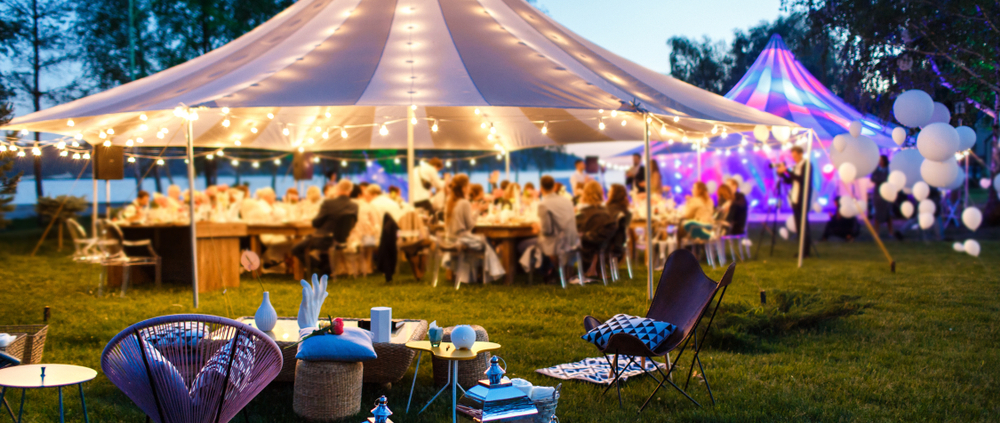 Whether you're planning a wedding, a graduation party or a family reunion, summer celebrations are in full swing! Outdoor events provide a scenic backdrop, natural lighting and ample space for all of your guests. Make sure your summer bash is unforgettable by including these must-have items.
Be sure your guests have a covered place to escape the heat during your summer event. Even a few minutes in the sun can cause discomfort. At Hicks, there are a variety of tents and canopies to choose from. You can stick with a simple canopy to keep your guests refreshed, or step it up with a climate-controlled tent for those scorching summer days.
During the summer months, people need a place to eat, relax and visit with one another. Tables and chairs may seem purely functional, but they can add a great deal of aesthetic to your party as well. Decorate with colored tablecloths and centerpieces that bring out the summer fun. Depending on the event, you may need a seat for every guest, or a few cocktail tables scattered throughout your space. Regardless, tables and chairs are a must when it comes to summer soirees.
The party doesn't have to end when the sun goes down. Keep your space lit and keep your guests partying into the night. Light the trees with a splash of color to make your location pop. You can choose from lanterns, string lights, lamps and more. When it comes to creative ways to illuminate your outdoor event, the possibilities are endless!
Games
In the warmer months, keeping your guests entertained can also help keep their minds off the heat. Spice up your night with yard games or a themed party. From carnival games to casino night, make your summer event a night to remember.
Plenty of water
On those hot summer days, it's important to keep you guests hydrated. Consider having a water cooler available, or even a misting fan. Set up a few water games for the kids and gather your guests around the pool. If you want to be sure your guests are staying hydrated while keeping things festive for the summer, maintain the theme of your summer event with fun cups and drink accessories.
Weather-friendly materials
Summer days can be hot and summer nights can be buggy. Try dressing up your event with functional décor, like tiki torches and candles, to keep the bugs away. You can also get creative and hand out small fans as a party favor. Your guests will be so thankful that you went the extra mile to keep them comfortable. There are many ways to dress up weather-friendly materials so that the party goes off without a hitch!
Let Hicks plan your next summer event! For more information, contact Event Rentals by Hicks, or visit www.hicksconventions.com.
https://hicksconventions.com/wp-content/uploads/shutterstock_772080394.jpg
667
1000
Beth Wilson
https://hicksconventions.com/wp-content/uploads/Event-Rental_Vector-copy-300x300.jpg
Beth Wilson
2018-07-18 10:30:51
2018-07-18 10:30:51
Must-have items for your summer event