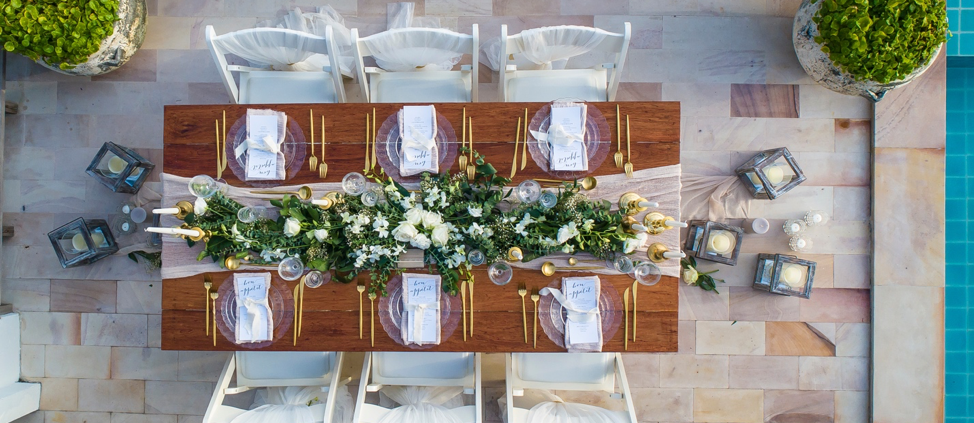 Scenery sets the mood for any event. Whether it's greenery against a white table cloth or beautiful silverware lying on walnut wood, a lovely tablescape can pull the entire look together. Your guests will be amazed by the patterns and design of the work you put together.
If you're looking to wow your guests at your next event, we've rounded up five tips to help you to create the perfect tablescape.
Prioritize color coordination
The first step in planning a tablescape is choosing the perfect color palette. Try to avoid mixing too many patterns and allow for some pieces to be stronger than others. Each element in your tablescape should have a distinct role. That means some will serve as a simple foundation, such as plain, neutral linens, while others will stand out, such as patterned dinnerware. When planning a tablescape, seasonal colors are important to pay attention to as well. Consider the theme of your event when selecting your materials. You'll want to be sure the colors are timely and that your décor complements the time of year. If you're struggling to decide, neutral colors are a fail proof choice when creating a dreamy tablescape.
Add a bit of greenery
Greenery can add depth and dimension to almost any tablescape. Incorporating magnolia leaves or eucalyptus to your table design is a simple way to make an attractive statement. These fresh floral accents are sure to catch the eye of your guests, and produce Pinterest-worthy photographs.

Light a few candles
Elegance is often highlighted by glowing candlelight. Candles are an affordable accent to incorporate into your tablescape. Their flickering flames can bring the beauty of the table to life. If your environment is not fit for candles, you can create beautiful glow jars that accentuate the other decorations on the table. This fun DIY option leaves room for your creativity to shine.
Minimize clutter
When perfecting a tablescape design, you want to wow your guests with beautiful décor, but you still need to have enough room to enjoy your meal as well. Make sure your decorations are proportionate to the size of your table. Having too many accessories on a small surface can create a busy and distracting result. Pick a few key features you want to accentuate and keep the rest simple.
Incorporate variety
Different textures and patterns can add a fun aesthetic to your tablescape as well. Try incorporating clean lines from freshly pressed linens, with rough textures like wooden coasters. Sticking to this decorating tip will help create balance in your design. Have fun with setting a table for your closest friends and family, and don't forget to snap a couple pictures to remember the evening for years to come.
Let Hicks help you set the perfect tablescape for your next event! For more information, contact Event Rentals by Hicks, or visit www.hicksconventions.com.
https://hicksconventions.com/wp-content/uploads/tablescapeheader.png
637
974
Beth Wilson
https://hicksconventions.com/wp-content/uploads/Event-Rental_Vector-copy-300x300.jpg
Beth Wilson
2019-05-24 08:00:15
2019-05-23 14:17:44
5 Tips for the Perfect Tablescape