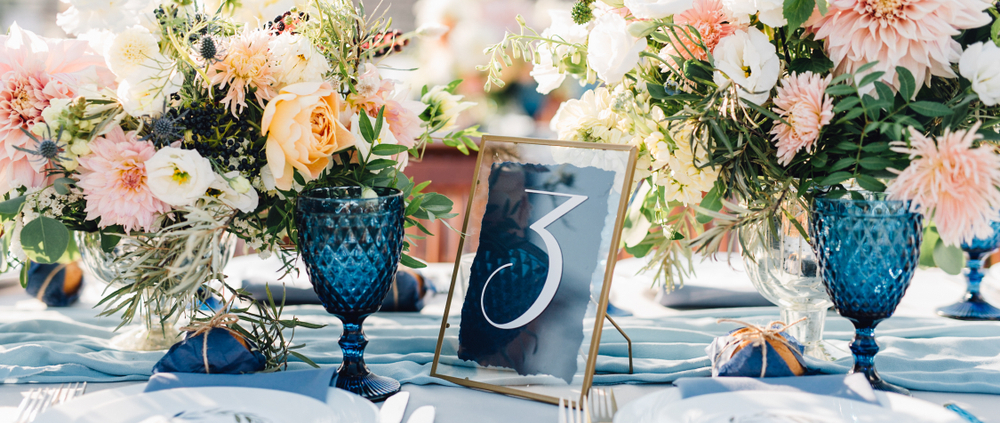 One of the most exciting first steps in wedding planning is deciding on a color palette. Your selection of shades will help determine floral arrangements, linens, décor and attire for your special day. Choosing your wedding colors can be overwhelming, but with these simple tips, you can be sure that your palette is personal, powerful and picture-perfect.
Work with your setting
If you are having trouble deciding on which colors to highlight for your big day, take a look around your venue and be inspired by your setting. Take note of any wall colors, floors and additional items that could be dressed up for your event. If your wedding is outdoors, you can pull ideas from trees, flowers or nearby lakes or ponds. Working with your space will ensure that your colors are complementary and your wedding day is perfectly planned, from start to finish.
Think of your theme
Allow your wedding theme to guide your decision when considering your color palette. If you are sticking to a classic theme, try highlighting soft hues with metallic accents. If you are going the modern route instead, consider choosing one or two bold statement colors and a contrasting accent shade. If your theme is more specific, pull color ideas from the flower arrangements or décor that you already have in mind. Your wedding colors are a primary part of your theme, so don't be afraid to draw ideas from items you've already decided on.
Consider the season
One of the most helpful tools in choosing a color palette is the season! If you're planning a winter wedding, you may want to consider an icy blue and silver palette, or a dramatic red and black combination to contrast with the bright, snowy landscape. For a spring or summer wedding, try pulling out some fresh floral colors, and for a fall wedding, perhaps an arrangement of reds, oranges and yellows to highlight the changing leaves. Let the season help craft your perfect theme by providing a natural canvas to work from.
Balance, balance, balance
When choosing a color palette, the key is balance. You are the focal point of your big day, and your colors should simply serve to showcase you and your bride or groom. Avoid choosing too many colors or shades that clash with one another. It is often helpful to pick a primary focus color that can be complemented by one or two accent colors. When selecting an accent, don't forget to have at least one neutral color like black, white, gold or silver to resort to when planning the smallest details of your décor.
Don't forget your favorites
As you plan your big day, take note of the hues that you enjoy the most. Do you prefer soft pastels, earthy tones or bright and bold shades? Your wedding day is a reflection of your personality, so add a splash of "you" to your color palette. From the lighting to the linens, find creative ways to incorporate your favorite colors into your décor and build an atmosphere that is personal to you and your bride or groom.
If you are planning your wedding and would like more information, contact Event Rentals by Hicks to schedule a meeting with one of our wedding coordinators.
https://hicksconventions.com/wp-content/uploads/shutterstock_1059199631.jpg
668
1000
Beth Wilson
https://hicksconventions.com/wp-content/uploads/Event-Rental_Vector-copy-300x300.jpg
Beth Wilson
2018-09-06 09:53:02
2018-09-06 11:41:46
How to Choose the Perfect Color Palette