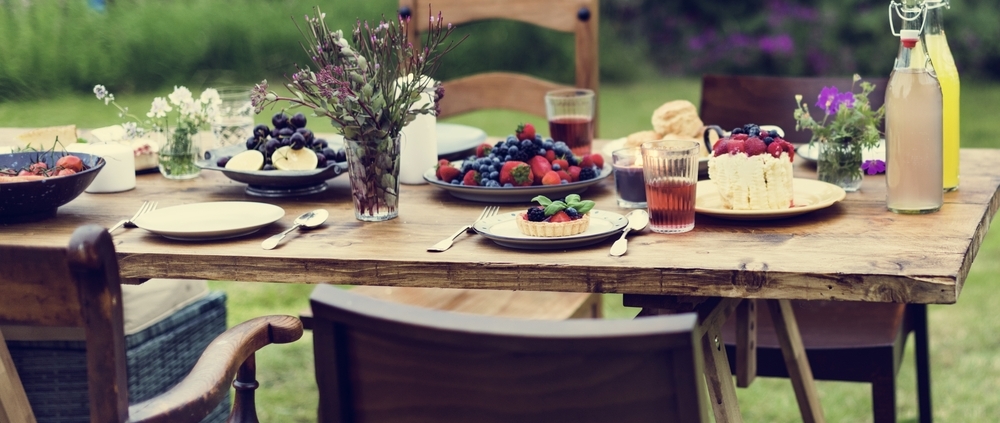 Summer nights are quickly approaching, and that means people everywhere will be hanging out in their backyards with dear friends and family, surrounded by good food and laughter. Intimate time shared around a picnic table at an outdoor dinner party creates the best summer memories to cherish.
Whether it's your first time hosting a dinner party or you're a seasoned host, give a few of these creative ideas a try the next time you invite family and friends over to your outdoor oasis. 
Light up the night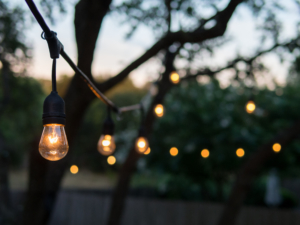 Outdoor events are stunning, especially as the sun sets. Hang string lights above the dinner table and throughout the backyard to create a magical dining experience. The low light and warm glow of each bulb adds an intentional, yet understated ambiance. You can find string lights almost anywhere for a reasonable price. If you're looking for a one-time use, borrowing from a friend or renting a few strands might make more sense for you. Consider stringing the lights from tree to tree at different heights to create depth. As the sun sets on your evening, your guests won't overlook this décor detail. Illuminating string lights will make all the difference to your dinner party under the night sky.
Serve up food on pretty platters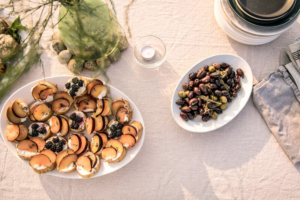 When planning a dinner party, the cuisine is always in the spotlight. Consider having a family-style outdoor dinner, where guests can pass around platters of delicious food and pick their own portions. Display dishes at each place setting that you already have on hand and splurge for a few unique pieces. Serve up salad in a beautiful wooden bowl, pour water into colored glass goblets and invest in delicate dessert plates to pass after-dinner sweets around the table. Keeping the dinner décor simple, while throwing in a few fun accents, is guaranteed to create a picturesque scene.
Style unique centerpieces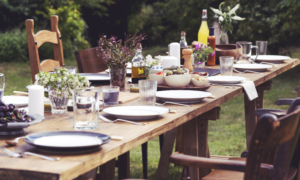 Be the host with the most by going over-the-top with your tablescape. Vases of fresh flowers make perfect dinner table centerpieces. Stop by your local farmers market to pick up a colorful arrangement, or pick bouquets of wildflowers with a friend. Separate the stems into smaller vases to scatter around, or choose to place the entire selection into a large vase at the center of the table. Add a few tealight candles, and you will have set the dreamiest table for a night to remember.
Mix and match your dining chairs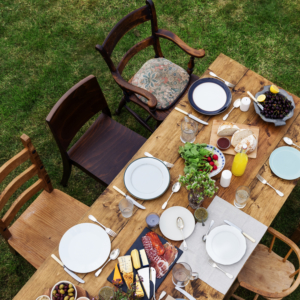 A backyard dinner party is casual in nature, which allows for more flexibility when it comes to décor and event rentals. Place whatever chairs you have in your house around a long dinner table to create a fun, assorted look. Select classic wooden chairs, antique chairs, stools, stumps, or even place poufs around a short table and sit on the ground picnic-style. By intentionally mismatching your décor, you can create a casual and eclectic evening.
Let Hicks help you plan your outdoor dinner party! For more information, contact Event Rentals by Hicks, or visit www.hicksconventions.com.
https://hicksconventions.com/wp-content/uploads/shutterstock_518233018.jpg
500
1000
Beth Wilson
https://hicksconventions.com/wp-content/uploads/Event-Rental_Vector-copy-300x300.jpg
Beth Wilson
2019-04-18 08:00:53
2019-04-16 16:43:48
Hosting an Outdoor Dinner Party