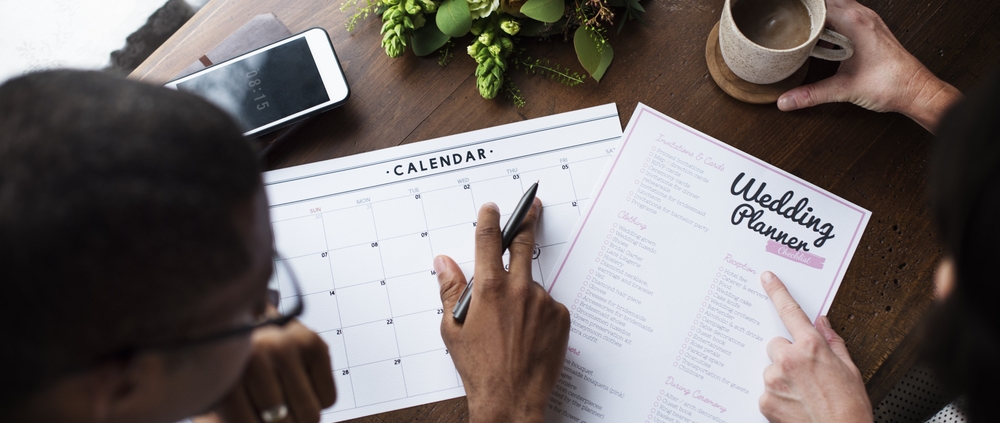 There are many factors that play a part in choosing your wedding theme. Some couples select a theme based off of something they both love, such as a movie or time period. Others will decide on a theme centered around their venue or the season in which they are getting married. While there are a number of ways to approach your decision, the process can often become overwhelming and filled with too many choices. With a few simple tips, you can filter through an ocean of options and select the right theme for your special day.
Evaluate your vision
When a couple begins planning their wedding day, close friends and family will often want to offer their "two cents." While these thoughts and opinions are meant to be helpful and encouraging, sometimes they can present added pressure to choose a theme that guests prefer. Your wedding day is a celebration of you and your partner's relationship and the start of a new chapter. Sit down together and decide collectively what your priorities are. Perhaps you feel that you absolutely must have the five-tier wedding cake, the champagne fountain or the big band orchestra. These must-have items will help you determine specifics, such as the venue, food and color palette. Once these decisions are established, it will help direct the feel for a theme that will ensure that both of you have a picture perfect day.
Be seasonably sensible
The season can play a large role in the theme for your wedding. If you are having a summer wedding, you may want to consider a tropical theme that highlights the heat. Play up the sunny vibe by planning fun cocktails, flowers and outdoor games for guests to enjoy at the reception. If you are considering a fall or winter wedding, take advantage of the colder temperature and host a black tie event. This gives guests the opportunity to pull out their beautiful ball gowns, fur coats and tuxedos. Center your decision around the environment you and your partner want and use this as a compass to help plan the rest of your wedding details.
Consider your location
The wedding location can be a great source of inspiration for your theme. If you are utilizing an old rustic barn for your venue, try incorporating complimentary colors that can provide the perfect balance of classic country. Stringing lights and lanterns can add an extra touch of charm that will ensure your space feels inviting to guests. If you are considering something different, like an oceanfront destination wedding, minimal décor that is light and airy might be the right fit for you. When choosing your event location, keep in mind how it can impact the feel of your wedding day details, and be sure to highlight the natural beauty in your space.
When in doubt, pin it out!
Pinterest can be your best friend when it comes to choosing a wedding theme. You can search for a variety of ideas and this social media platform can provide a vast amount of photos to prompt endless possibilities. It is always helpful to see what has been done prior to your day, so take advantage and create an inspiration board filled with photos of wedding elements you love!
Let Hicks assist with your wedding theme preparation and event rentals for your day! For more information, contact Event Rentals by Hicks, or visit www.hicksconventions.com.
https://hicksconventions.com/wp-content/uploads/shutterstock_655597441.jpg
667
1000
Beth Wilson
https://hicksconventions.com/wp-content/uploads/Event-Rental_Vector-copy-300x300.jpg
Beth Wilson
2018-10-05 09:42:48
2018-10-05 15:06:37
How To Pick Your Wedding Theme