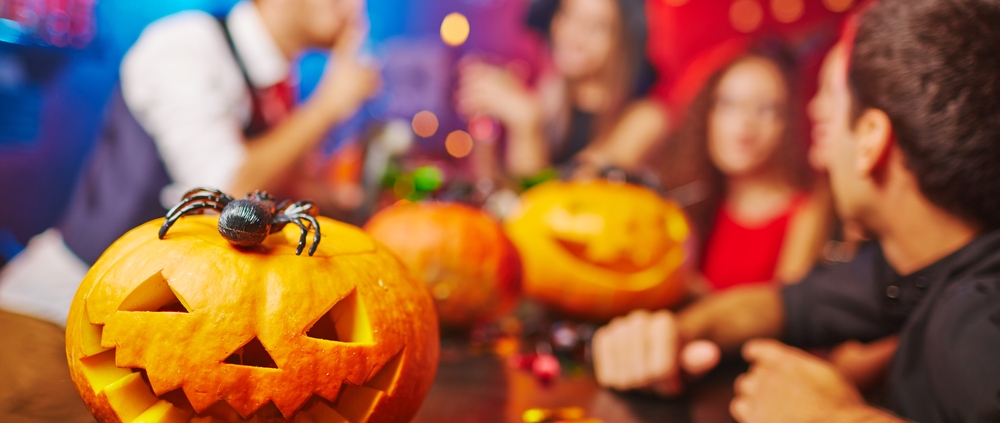 October brings a chill in the air, and not just from the weather! Everywhere you look, you'll see round, orange pumpkins carved with fun faces, or front yards decorated with frightening fantasies. This time of the year also brings costumes, candy and did we mention party planning? Take a look at our list of four Halloween party planning essentials that will keep your guests screaming with delight as you turn out the light for your spectacularly spooky soirée.
Daunting décor
Establishing your décor is first on the list when preparing to host a Halloween party. Whether you are planning a family-friendly neighborhood bash or a gathering for the grown-ups, it is always a good idea to start with a theme. Who doesn't love a good party theme, especially for Halloween? Perhaps you want to have a more traditional frightening festivity, filled with candle-lit pumpkins, hanging skeletons and mysterious music that the whole family will enjoy. Or, perhaps you'd rather plan a "blast from the past" and encourage your friends to center their costumes around their favorite decade or high school memory. Whichever theme you choose, plan in advance to ensure you provide the best Halloween atmosphere for you and your guests to enjoy!
Spine-chilling sustenance
Food and drinks are a great opportunity to have a little fun and add a little flavor to your spooky celebration. Homemade dips and pre-chopped veggie trays are easy grab-and-go snacks for guests to enjoy. Take advantage of the opportunity to add delightful decorations, such as plastic spiders on serving trays and cobwebs around the tables. You can even go the extra mile and provide guests with goblets or colored drinking glasses filled with light-up ice cubes for a fun party treat, complete with a dry ice punch bowl for an extra dose of fright. Small, scary touches will add depth to your party details.
Ghoulish games
At Halloween parties, games are a fun way to ensure all of your guests interact and get to know one another. Bobbing for apples is a timeless classic that provides entertainment for all ages. Hosting a costume contest will also encourage your friends to partake in the party spirit. Another inexpensive fan favorite is "wrapping the mummy," where guests are up against the clock, wrapping one another in toilet paper from head to toe. If you want to heat up the competition, you can also divide your guests into teams, tally up the scores and crown the winner of your ghoulish games!
Fearsome favors
Top off the evening with festive favors for all of your guests. They are sure to appreciate a simple gift that keeps the Halloween spirit alive once the party is over. Craft a keepsake, or order custom cups and koozies to help remind your friends to keep your spooky soirée on their calendar for next year!
Let Hicks help plan your spectacularly spooky Halloween soirée! For more information, contact Event Rentals by Hicks, or visit www.hicksconventions.com
https://hicksconventions.com/wp-content/uploads/shutterstock_309592571.jpg
667
1000
Beth Wilson
https://hicksconventions.com/wp-content/uploads/Event-Rental_Vector-copy-300x300.jpg
Beth Wilson
2018-10-19 08:00:47
2018-10-18 13:43:43
How To Plan a Spectacularly Spooky Halloween Soirée