Outdoor weddings are amazing events for a variety of reasons, but are also tricky to plan around daylight savings time. Many couples like to take advantage of the natural backdrop and the mild weather in the spring or fall. The planning stage is crucial to guarantee a successful soirée during these beautiful seasons. Keep the following factors in mind when considering how daylight savings can impact your outdoor wedding.
Weather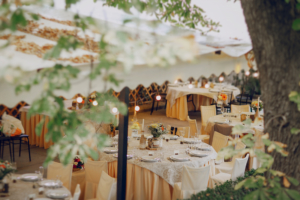 Weather is an obvious factor to take into account when planning an outdoor wedding. Couples must be cautious when selecting a wedding date during certain months. You certainly don't want your guests to freeze or be drenched in sweat. The more comfortable, mild weather dates typically fall around daylight savings time. The weather is in transition and ideal temperatures are more frequent. Luckily, there are plenty of event rental options available to help combat the more unexpected temperatures as well. If your big day is warmer than expected, opt for tents with open air sides. These help shade your guests, while also giving you the outdoor feel you and your partner want. If the temperature is chillier than anticipated, keep your guests cozy by renting full sided tents with heaters.
This year, daylight savings falls in March for the spring and November for the fall. Both of these months boast beautiful natural outdoor colors of plants, flowers and trees busting with life. These natural elements complement a variety of color palettes and wedding themes, creating a sea of endless possibilities. When it comes to the weather, daylight savings is definitely on your side.
Lighting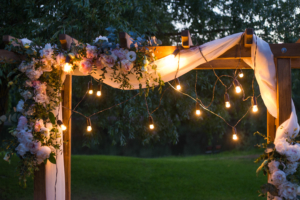 Another factor to consider when planning a wedding around daylight savings is the lighting. Outdoor events have some of the best natural light and also accommodate a number of atmospheric lighting options. As sunsets pop with colors of cotton candy, and gray cloud-covered days are accented with colorful leaves, daylight savings time provides guests with a beautiful backdrop to admire. Once the sun goes down, there are many lighting options available to liven up any outdoor wedding space. If your big day falls in March, you will likely have longer hours of natural light. Consider candles and small table lamps or lanterns to give your setting a romantic feel. If you are getting married in November, the sun will likely go down earlier in the evening. This creates a perfect excuse to incorporate large chandeliers and a variety of string twinkle lights. Enjoy the balance of both natural and produced light for your event, as it makes for great photos of your wedding day.
Guest Energy
When your big day arrives, not only will you be excited, but so will the many loved ones that you and your partner have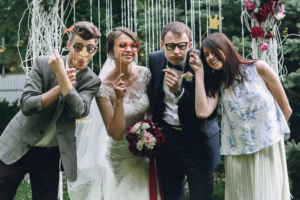 invited to celebrate this amazing occasion. There is a common belief that around daylight savings, people are usually more tired due to the change in sleep patterns. To combat the sleepy side-effects of daylight savings, be sure to plan engaging activities like photo booths or tabletop games, and of course, generate a great playlist for you DJ. Friends and family attend your wedding to celebrate your new life with the one you love, regardless of sleep. After all, they have the next day to sit back, relax and reminisce on all of the fun that had at your wedding!
Let Hicks help you plan your daylight savings outdoor wedding! For more information, contact Event Rentals by Hicks, or visit www.hicksconventions.com.
https://hicksconventions.com/wp-content/uploads/shutterstock_594338267.jpg
1733
2600
Beth Wilson
https://hicksconventions.com/wp-content/uploads/Event-Rental_Vector-copy-300x300.jpg
Beth Wilson
2019-02-22 09:30:39
2019-02-22 09:36:38
How Daylight Savings Impacts Your Outdoor Wedding