A traditional wedding cake will never go out of style, but why sacrifice individuality for a classic white confection? Your wedding day is all about your unique, personal style. This means you don't have to settle for the same sweet treat you've had at every other wedding. Don't be afraid to shake things up and offer your guests a slice of non-traditional goodness.
Whether you choose to cut into something sweet or savory, there's nothing vanilla about these five wedding cake alternatives.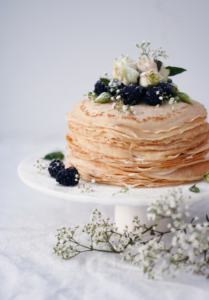 Crepe Cake
A crepe cake is the wedding treat you never knew you needed. Slice into a tall stack of buttery crepes and wait for the crowd to flock. Stick to traditional flavors or choose a tasty filling and layer crepes on top of each other to create a tiered cake display. Dust your dessert with powdered sugar or place a few flowers on top. Serving up a crepe cake is sure to leave a memorable impression on everyone's taste buds. 

Cheese Cake
We're not talking about a classic New York Style cheesecake, we're talking about real-life, actual wheels of cheese. Think manchego, parmesan, gouda or goat cheese. Cut into your cheese cake after dinner to serve up a late-night snack. Surround it with jams, crackers and charcuterie on a beautiful wooden cheese board, or keep it simple and let the savory structure stand alone. Either way, this unique dessert choice will have your family and friends grinning from ear to ear.
Donut Cake
Who says donuts are just for breakfast? These sweet and sticky treats make the perfect alternative to a traditional wedding cake. From glazed to chocolate, powered or jam-filled, donuts come in practically any shape or size. Get creative with sprinkles that complement your color palette and choose a frosting color that matches your décor. When it comes to dishing out these tasty treats, there's no slicing and no mess. Your guests can grab a donut, hit the dance floor and come back for more!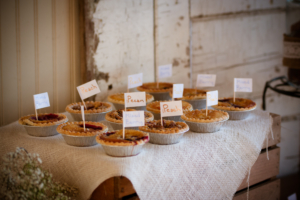 Pie
Swap cake for pie and serve up your grandmother's homemade recipe or your favorite flavor from the best local bakery. Offer bite-sized pies for each guest to indulge in, or stick to full-sized slices. Instead of a towering display, consider making a dessert bar to showcase beautiful pies surrounded by greenery or flowers. However you decide to dish it out, there's really no mistake in choosing this golden-crusted goodness to satisfy your wedding day sweet tooth.
Macaron Cake
Keep it classic with elegant, white macarons, or display an array of colorful sweets that will catch the attention of all. These personally portioned desserts are hard to pass up. Always a crowd favorite, macarons are a perfect option for those who wish to wow their guests. You can take a step back and relax, enjoy a sweet treat and return to your friends and family. A macaron cake is sure to make all your guests say, "Oui!"
Make your big day unique by choosing any one of these wedding cake alternatives, and let Hicks take care of all your event rental needs! For more information, contact Event Rentals by Hicks, or visit www.hicksconventions.com.
https://hicksconventions.com/wp-content/uploads/shutterstock_179314892.jpg
2719
4085
Beth Wilson
https://hicksconventions.com/wp-content/uploads/Event-Rental_Vector-copy-300x300.jpg
Beth Wilson
2019-04-05 09:12:29
2019-04-05 09:12:29
Wedding Cake Alternatives